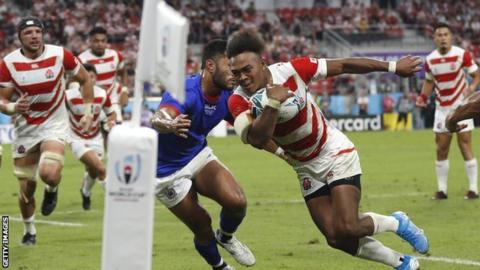 Japan benefited from "an incredible call" to earn a bonus point in their World Cup victory over Samoa, says Scotland head coach Gregor Townsend.
The host nation crashed over for a stoppage-time try in a 38-19 win after Samoa were punished for a squint scrum feed on their own five-metre line.
Japan meet the Scots in the hosts' final pool match on Wednesday.
"I've never seen a crooked feed [penalised], certainly at the World Cup or in the Six Nations," said Townsend.
"I think it's an incredible call to be honest. It's something that has not been refereed and there's been an agreement that there is more latitude for scrum-halves putting the ball in because you are the team that's won the scrum.
"To see it in a World Cup really surprised me. To see it as we went into injury time for a game-changing decision was an even bigger surprise."